Today was partly an experiment; earlier in the week I thought I'd finally figured out how to make the live feed with my camcorder; my camera has no cables that can connect into any of the tech at the school, but it does have a USB port. I ordered a USB RCA cable – one of the ones with the red, white and yellow bits that used to hook into a TV – and a USB connector and brought it in today.
Note my wording; I thought I'd fixed it.
The feed didn't work, so my sourcing was kind of null. On the plus side, I know that the cameras in the school can make the live feed because we've done it before, so I just need to use their camera on Wednesday and Thursday, which shouldn't be a problem. I was also informed that I would be working with Zac Scott, a recent graduate, who is making a promo video for the performance. He asked me during the production meeting to book out one of the bigger cameras from the AV store – I emailed AV during the lunch break to make sure all of the things could be booked out at once.
                                           I felt genuinely betrayed. Bloody cables.
Because the session was shorter today I spent most of the morning in a production meeting; I still had a lot of things to source, like props from the prop store and the AV equipment, but also some video footage. We needed a time lapse of buildings being constructed – I have been elected to scour youtube and rip some videos, compiling them into a short sequence and loading them into the projector. I will have to find out how to rip videos, but that shouldn't be too complex.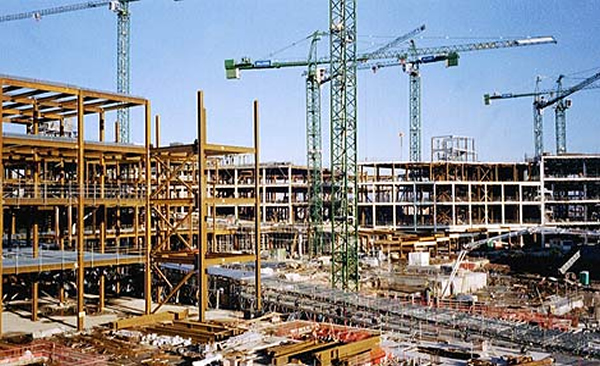 Murray wants these sorts of clips. They shouldn't be too hard to find.
This afternoon we had a scratch runthrough, which I was asked to record. I felt it was important for me to ask Murray what he wanted me to film, and if he wanted any specific things done – in my past recordings I had zoomed in on certain parts of the action, which may not have been what he was looking for. He asked me just to do a static recording of the runthrough and not to try and catch any one specific thing.
My reaction to this was interesting; I became very frustrated with the recording, and was very reluctant to just leave the camera alone. I thought about this while the run was happening; I believe that I was frustrated for a number of reasons, both personal and practical; I did not control what was happening to the shot, the main focal point was usually not in the centre and the file size would inevitably be larger and so the run would take longer to send online, if it sent at all – I had had issues sending film footage over Dropbox in the past, and I was reluctant to send footage of the pupils over Youtube.
I think I learned a lot today about the difference between making your own film and documenting work; when you're making a film you have a greater sense of control, because it's entirely your work and you make all creative decisions. With documentation there's an element of compromise; you are making a piece of work, but it has to fit the perameters of the people you are working with is mostly influenced by the style of the work it is capturing. In other words, with filmmaking the person with the camera has the final say, whereas in documentation they must be responsive to the artists that are being recorded.